Car Radio Installs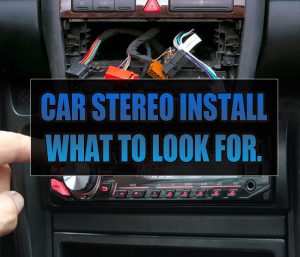 Today's car radio installation is not as simple as they used to be. Everything used to be analog and hard wired. These days that does not work to well. In fact you could do some major damage to your car's computer system. In many cases some cars have premium systems or even steering wheel controls. That will need to be kept working when changing the car's stereo. This is the very reason that you need to come to the pros and get your car stereo installed at Stereo Zone. If your not in the area lets go over what you want to ask when getting your car stereo installed.
---
Do I Need any Accessories?
Most times you will need additional accessories to complete your car radio installation. For the most part these parts are not that expensive. A standrd dash kit is usually about $20 dollars on average. However in some cases they are much higher. For example the new camaro dash kit retails for about $350.00. The ford Tauruss kit costs about $600. In some cases modules are required. These range from $75 to $199.
---
Are the Accessories Included?
Many times they sales guy will shoot you a price without having looked at the . Once the car is in their install bay they inspect it and usually let you know that more parts are needed. That being said if they offer to go out and look at the car that's a sign that you will be getting a fair price for your install.
---
How Long Has the Installer Been at that location, and How Long Have they Been Installing?
There are only about 100 Master installers at any given time. So don't get your hopes up on finding one. If an installer has been at that location for at least one year that's always a good sign. If an installer has an MECP certification and the training that goes with it such as our techs at Stereo Zone is always a plus. How ever it is not the end of the world if the installer is not certified. As long as they have plenty of hands on experience along with other training that will also make for a good install.
---
How Much Will Your Total Bill Be?
If the accessories are included in the price given to you then next obvious question is how much is the install price for your car radio installation. Price will vary depending on where you live of course. You will want to know your total price beforehand so there aren't unexpected charges. Here is what a normal car stereo install will look like at Stereo Zone:
Labor: $35.00
Dash Kit: $15.00
Car Harness: $10
Antenna adapter(in some cases needed for am-fm): $10
Total: $70.00